New!
Electronic Techniques--Soldering, Shop Practices and Construction (for industry, classroom, DIY and hobby; using pre-computer and CAD-less methods)
Electronics Drafting (using pre-computer and CAD-less methods)
Electrical and electronic drawing--Industrial Controls, Drawings for the Electric Power Field, more...
Drafting for Electronics--Schematic Diagrams, Motors and Control Circuits, more...
The Industrial Electronics Guide
Instrumentation reference guide (includes: Physical instruments; Engineering instruments): Field Controllers, Hardware and Software
Fundamentals of Switching Power Supplies
Guide to Electric Power Systems Technology
Guide to Industrial Automation
Fundamentals of Electrical Power Equipment Maintenance & Testing
Guide to Operating Rotating Equipment and Machines

above: Comparison of life of study motors with industrial experience.
Fundamentals of Electrical Transmission and Distribution
Modern Electronic Component Families and Circuit Block Design
DC Power Supplies---Power Management and Surge Protection for Low-Power Electronic Systems
Guide to Grounding, Bonding, Shielding and Surge Protection
Do-it-Yourself Low-Cost Signal Generator--Includes theory, schematics, parts lists, and mini-projects
Guide to Power Electronics Design--Low-Power Components and Applications: Introduction • DC to DC Converters • Switchmode Power Supplies • more...
Health concerns and electromagnetic fields (EMF) ... and related topics...
Process Plant Machinery: Electric Motors and Controls
Ultimate Guide to Industrial Robotics
Ultimate Guide to Electric Power Engineering
Practical Electronics for Inventors: DC Motors, RC Servos, and Stepper Motors
Stepper Motors--Theory and Practice
Guide to Laser Safety Management
Ultimate Electrical Engineer's Guide
Electric Motors -- Fundamentals and Control -- Achieve maximum energy efficiency in electric motors!
Electric Motor Drives and Machines: Dynamics and Control
Fundamentals of Electric Motors and Electric Drives

above: Example of typical AC 3-phase induction motor (Courtesy Baldor Electric).
---
---
Industrial Electricians Standard Guide of Electricity
---
Basics of Industrial Electronics Troubleshooting
AC motors and starters (part 1) , more...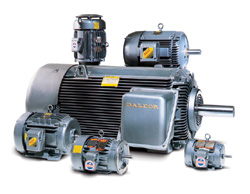 above: Various motors by Baldor Electric Corp.


---
Basics of Variable-Speed Drives (VSD) and Power Electronics

above: AC motor inverter, VSD. (Courtesy Baldor.)



above: Reliance Electric's GV3000 Drives -- avail. in two styles to suit various apps.


---
Electric Machinery, Motor Drives and Electricity Power Systems

above: AC motor inverter, VSD. (Made by Hitachi)



above: Dayton Adjustable Frequency AC Drive - 1KBT7.



above: "Vector" series drives by Lenze.
---
Electronics students ... we have just set up this ...
Guide to Electric Machines and Transformers
Guide index
Articles include: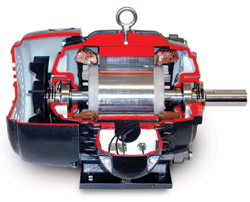 above: Cutaway model motor from Emerson Corp. They advise: To maximize motor life, focus on proper lubrication and temperature.



above: Question: What are these devices? Answer: Electric motor electromagnetic brakes (made by Germany's INTORQ)



above: ...and these are electromagnetic clutches--also by INTORQ.



above: Clutch-brake combinations. By INTORQ.
Laboratory Manual for Electronics:
Switching Power Supply Guide:
Industrial Motor Control and Engineering Manual
Guide to Industrial Electric Motor Control
Lightweight Electric/Hybrid Vehicle Design: Current EV design approaches; Electric motor and drive-controller design
Inverters for Photovoltaic Systems
Guide to Remote Control and Automation Techniques (industrial-electronics.com) -- Electric Motors and Solenoids
Guide to Small Electric Motors: Motor Testing -- SPEED-TORQUE CURVE (inaugural article)
Ultimate Guide to Electric Motors and Drives
Guide to Motors and Generators:
DC Machine Construction (inaugural article). More articles coming soon.
All About Lasers (With DIY Projects)
Service Technician's and Engineer's Guide to Electricity for Refrigeration, Heating + Air Conditioning
... and ...
Student's and Professional's Guide to Power Generation and Delivery:
What it is...
Our new guide introduces the concepts of power generation and distribution. The material is broken down into short segments which concentrate on specific concepts or applications of particular types of equipment. The detailed explanations are written in easy-to-understand language and concisely presents the needed knowledge. There are many illustrations and photographs which help to provide technical understanding and provide real-world reference. This type of explanation and application better prepares the learner to perform effectively on the job in installation, troubleshooting, repair, and service of electrical power generation and delivery.
The knowledge obtained in this guide permits the learner to progress further in the study of electrical systems. It should be understood that the study of electricity and the application of electrical products are continually changing. The electrical industry constantly introduces new and improved devices and material which in turn lead to changes in installation and operation of equipment. Electrical codes also change to reflect the industry needs. It is it essential that the learner continues to learn and update their knowledge of the current procedures and practices.
The text is easy to read and the units have been grouped by general subject. There are summaries of each unit which provide an opportunity to restate the most important topics of the unit. There are summaries of the units provided to summarize topic groups.
Each unit begins with the learning objectives. An Achievement-Review Quiz at the end of each unit provides an opportunity for the learner to check their understanding of the material in small increments before proceeding. Some of problems presented in the guide require the use of simple algebra and the learner should be familiar with the math before trying to solve the equations . It is also essential that the reader have a basic understanding of the fundamentals of electrical circuits and basic electrical concepts.
It is recommended that the most recent edition of the National Electrical Code (published by the National Fire Protection Association) be available for reference and use as the learner uses this guide. Application state and local codes and regulations should also be consulted when making the actual installations.
Single Phase AC Generation Principles
Introduction to Polyphase Circuits
The Three-Phase Wye Connection
The Three-Phase Delta Connection
Summary of Units 6-9
Student's and Professional's Guide to AC/DC Motors, Controls, and Maintenance:
Student's and Professional's Guide to Industrial Electrical Devices, Circuits and Materials:
1.-10. (coming soon!)
11. Single-Phase, Three-Wire Service Entrance
12. Installation of a Single-Phase, Three-Wire Service Entrance for an Apartment Building
13. Installation of a Three-Phase, Three-Wire Service Entrance
14. (coming soon!)
15. (coming soon!)
---
Coming soon: Achieve maximum energy efficiency in electric motors! We delve in to technical, meaty topics in order to help you obtain (and, henceforth, expect) maximum efficiency from your AC drive, DC drive, stepper motor, generator, alternator ... and even motors suitable for electric and hybrid cars.
---
Diagnose and Repair Modern Electronics: A DIY Guide
---
AC Drives and High-power Converters: Intro, Requirements, Motor-Side Challenges, Switching Device Constraints, Converter Configurations, MV Industrial Drives
---
University Physics
---
Articles list:
Articles-by-category section